A child is the hope of humanity, it is the birth of the future unseen Just ensure that they have sufficient vitamins, minerals and protein All days are happy for children, yet it is celebrated on 14 as a tradition Let us celebrate it with new vigor and energy, celebrating new edition May this day remind us, that we all have to be like children, so More...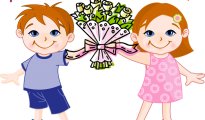 As we celebrate the Mother's Day on 11th May 2014 this year, we would like pay tribute to all Moms across the world who care selflessly for their kids and perform the toughest job in the world. A short poem as More...

Events and Contests Coming Soon…. More...